Horse Betting Rebates
At BUSR you get up to an 8% horse betting rebate paid daily and in addition to this fantastic reward, there is a $150 Racebook Bonus for new members.
What is a Horse Betting Rebate? 
A horse betting rebate is a bonus that you receive regardless of whether your bets win or lose. The rebate for horse racing varies in size depending on the track and the type of wager, however, at BUSR you can reach 8%.
Every day, horseplayers receive rebates through their bets placed at BUSR with our horse racing rebate program. The money can be used nearly immediately because rebates are deposited directly into your account the next day.
The rebates are crucial for players who struggle to break even at horse racing because it's free money back into their account that they can use the following day. Horse rebates are provided on a wide range of different horse betting wagers, so it doesn't matter if you place win, place, or show bets or decide to bet exotics.
Rebates substantially change the game of horse betting because you no longer need to finish on the winning side to profit.
Join BUSR today to receive a rebate on horse racing and a $150 Racebook incentive!
Horse racing rebates are easy to get
A rebate for horse racing is very simple to get. You only need to sign up at BUSR, start betting online and watch the race and your favorite horse .
It really is that simple. The good news is that you will regularly receive money refunded into your account, although this amount of the rebate will vary based on the track and the wager.
Join BUSR now and start cashing in today!
Up to 8% Horse Betting Rebate
Every day when you log into your account you will find up to an 8% rebate on your exotic wagers (everything but win, place and show) for qualified tracks in your account. For straight wagers (win, place and show) you will find a 3% rebate in your account. Each day we will deposit the total rebate into your account for the preceding day of all qualified wagers, win or lose! The rebate table is listed below:
BUSR Daily Rebates

| Track Type | Straight Wagers | Exotic Wagers |
| --- | --- | --- |
| Category A | 3% | 8% |
| Category B | 3% | 5% |
| Category C | 3% | 3% |
| Category D |   |   |
| Category E |   |   |
Your horse betting rebate bonus will be added to your BUSR account and can be reviewed in the Club House or My Account section once you have logged in to the site.
Rebates are yours to do whatever you want with. Play a few hands of blackjack, bet on a baseball game or try and hit that exacta box.
We wish you luck at the races and look forward to hearing about your big wins!
How do I bet on Horse Racing online?
You may bet on more than 300 racetracks from your smartphone or computer in just three easy steps by opening an account, making a deposit, and placing your wager in our Racebook. Check out BUSR's selection of horse racing wagers and place your online bets: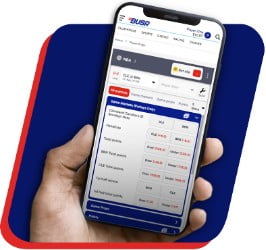 Win: Of all the wagers, this one is the most straightforward and well-known. Simply pick your favorite and stake a bet on who will arrive at the winning post first.
Place: The place bet is great if you think your selection has a good chance but want to play it safe. You'll receive a bit less money, but if your selection places first or second, you'll be compensated.
Show: This time, if your choice places in the top three spots, you win.
Exacta: Choose the winner and runner-up of the race correctly. Although this wager is more difficult than the win wager, it also pays out more.
Trifecta: Align the first, second, and third correctly. If you guess correctly, the exacta winners will be jealous of you.
Superfecta: This is the bet to place if you want to risk it all. If you choose the first, second, third, and fourth numbers correctly, you could win a sizable sum of money.
Check out the track by Category to calculate your daily rebates
Track Categories

| | | | | |
| --- | --- | --- | --- | --- |
| Category A | Category B | Category C | Category D | Category E |
| Aintree | Canterbury Park | Albuquerque | Arawa Park | Aby |
| Aqueduct (T) | Charles Town | Arapahoe Park | Australia B | Amal |
| Australia A | Delaware Park | Belterra | Australia C | Arjang |
| Auteuil Racecourse | Delta Downs | Colonial Downs | Australia D | Arvika |
| Ayr | Durbanville | Columbus Park | Cal Expo | Ascot Racecourse |
| Ballinrobe | Emerald Downs | Dax | Dover Downs | Ashburton |
| Bangor-on-Dee | Fair Grounds | Ellis Park | Fairmount Park | Australia Harness 1 |
| Bath | Finger Lakes | Evangeline Downs | Fontainebleau | Australia Harness 2 |
| BC Juvenile /Classic DD | Hoosier Park | FanDuel Racing | Ferndale | Cambridge |
| BC Juvenile Fillies/Distaff DD | Horseshoe Indianapolis | Fukushima | Flamboro Downs | Assiniboia |
| BC Juvenile Turf/Turf DD | Laurel Park | Funabashi | Fort Erie | Axevalla |
| Bellewstown | Lone Star Park | Golden Gate Fields | Freehold Raceway | Bergsaker |
| Belmont Gold/Stakes Double | Los Alamitos | Greyville | Fresno | Boden |
| Belmont Park | Los Alamitos Race Course | Hanshin | Harrah's Philadelphia | Bollnas |
| Beverley | Louisiana Downs | Hastings Park | Harrington Raceway | Bro Park |
| Brighton | Oaklawn Park | Hawthorne | Hawera | Buffalo Raceway |
| Carlisle | Penn National | Kenilworth | Matamata | Compiegne |
| Cartmel | Prairie Meadows | Kentucky Downs | Otaki | Dannero |
| Catterick | Presque Isle Downs | Kokura | Phar Lap | Daytona Beach Evening |
| Chantilly Racecourse | Sam Houston Race Park | Kyoto | Plainridge | Daytona Beach Matinee |
| Chelmsford City | Sunland Park | Mahoning Valley | Pleasanton | Eskilstuna |
| Cheltenham | Turfway Park | Meadowlands | Pocono Downs | Farjestad |
| Chepstow | | Mont de Marsan | Pukekohe | Fonner Park |
| Chester | | Mountaineer Park | Retama Park | Gavle |
| Churchill Downs | | Nakayama | Riccarton | Hagmyren |
| Clonmel | | Niigata | Sacramento | Halmstad |
| Cork Racecourse | | Oi | Santa Rosa | Hawthorne Harness |
| Curragh | | Remington Park | Sha Tin | Hoosier Park Harness |
| Deauville-La Touques | | Ruidoso Downs | Tauranga | Jagersro |
| Del Mar | | Sapporo | Te Aroha | Jagersro Galopp |
| Doncaster Racecourse | | Scottsville | Te Rapa | Kalmar |
| Down Royal | | SunRay Park | The Red Mile | Karlshamn |
| Downpatrick | | Turf Paradise | Thistledown | La Teste |
| Dundalk | | Vaal | Timonium | Lindesberg |
| Epsom Downs | | Will Rogers Downs | Wanganui | Lycksele |
| Exeter | | Zia Park | Western Fair Raceway | Mantorp |
| Fairyhouse Racecourse | | | Woodbine Mohawk Park | Meadowlands Harness |
| Fakenham | | | Woodville | Meadows Harness |
| Ffos Las | | | | Monticello Raceway |
| Fontwell | | | | Northfield Park |
| Galway | | | | Orebro |
| Goodwood | | | | Ostersund |
| Gowran | | | | Oviken |
| Gulfstream Park | | | | Rattvik |
| Hamilton | | | | Romme |
| Happy Valley Racecourse | | | | Saratoga Harness |
| Haydock | | | | Saratoga Harness Early |
| Hereford | | | | Scioto Downs |
| Hexham | | | | Skelleftea |
| Huntingdon | | | | Solanget |
| Kawasaki | | | | Solvalla |
| Keeneland | | | | Tarbes |
| Kelso | | | | Tingsryd |
| Kempton | | | | Tri-State Evening |
| Kilbeggan | | | | Tri-State Matinee |
| Killarney | | | | Umaker |
| King Abdulaziz Racetrack | | | | Vaggeryd |
| Laytown | | | | Visby |
| Leicester | | | | Wheeling Downs Evening |
| Leopardstown | | | | Wheeling Downs Matinee |
| Limerick | | | | Yonkers Raceway Harness |
| Lingfield | | | | |
| Listowel | | | | |
| Longchamp | | | | |
| Ludlow | | | | |
| Market Rasen | | | | |
| Meydan | | | | |
| Monmouth Park | | | | |
| Musselburgh | | | | |
| Naas Racecourse | | | | |
| Navan | | | | |
| New York/Metropolitan Double | | | | |
| Newbury Racecourse | | | | |
| Newcastle | | | | |
| Newmarket | | | | |
| Newton Abbot | | | | |
| Nottingham | | | | |
| Oak Tree at Pleasanton | | | | |
| Oaks/Derby Daily Double | | | | |
| Oaks/Old Forester/Derby Pick 3 | | | | |
| Parx Racing | | | | |
| Perth | | | | |
| Pimlico | | | | |
| Plumpton | | | | |
| Pontefract | | | | |
| Punchestown | | | | |
| Redcar | | | | |
| Ripon | | | | |
| Roscommon | | | | |
| Saint-Cloud | | | | |
| Salisbury | | | | |
| Sandown | | | | |
| Santa Anita Park | | | | |
| Sedgefield | | | | |
| Sligo | | | | |
| Southwell | | | | |
| Stratford | | | | |
| Tampa Bay Downs | | | | |
| Taunton | | | | |
| Thirsk | | | | |
| Thurles | | | | |
| Tipperary | | | | |
| Tokyo | | | | |
| Tramore | | | | |
| Turffontein | | | | |
| Uttoxeter | | | | |
| Saratoga | | | | |
| Warwick | | | | |
| Wetherby | | | | |
| Wexford | | | | |
| Wincanton | | | | |
| Windsor | | | | |
| Wolverhampton | | | | |
| Woodbine | | | | |
| Worcester | | | | |
| Yarmouth | | | | |
| York | | | | |
| | | | | |