NFL Odds - Sportsbook
NFL Odds – Sportsbook
The Philadelphia 76ers and the Atlanta Hawks face a 7:00 pm ET tip-off at the Wells Fargo Center on Friday night, and we've got you covered for the second installment of the Hawks vs 76ers matchup of the season in this basketball betting preview. That is complete with predictions free picks and best bets sourced from NBA odds powered by BUSR sportsbook.
Read More
Why Choose BUSR Online Sportsbook?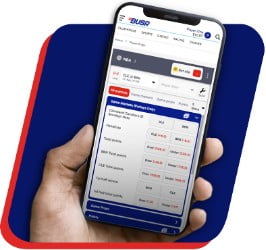 BUSR is an award-winning worldwide gaming corporation with offices in the United Kingdom and the Americas.
In 2020, BUSR received a 96% Gold Medal performance from Zendesk and was thrilled to support Tramaine Williams of Roc Nation Sport in his middleweight matchup versus Angelo Leo on Showtime Championship Boxing.
WBO Junior Lightweight Champion Jamel Herring's title battle versus Carl Frampton at Caesars Palace Bluewaters Dubai was sponsored by BUSR in 2021.
BUSR, in collaboration with the UNLV Lee Business School, also offers non-partisan polling data on US elections, such as the US Presidential Election, the Georgia Gubernatorial Election, and the 2022 North Carolina Senate Republican Poll. Top forecasters, such as FiveThirtyEight, 270ToWin, and The Hill, frequently use the BUSR/UNLV polling data.
BUSR odds and color commentary are given to various publications, including ESPN, Sports Illustrated, Newsweek, Politico and the New York Times.
We strive to be open and honest with our community and members while treating you respectfully.
To ensure that you are pleased and satisfied with our services and products, BUSR will honestly go above and beyond. One of the best gaming and entertainment experiences in the world is what we strive to give you.
We are excited to have you as a customer at BUSR.
What type of Bets do we accept?
At BUSR, you can wager on sports from all over the world, including American Football, Basketball, Hockey, Baseball, NASCAR, MMA, Boxing, Tennis, eSports, and many more.
We provide a wide variety of wagers such as straight bets, parlays, teasers, and action bets. BUSR offers you American, fractional, and decimal odds for each of our lines. In addition, we provide fantastic welcome bonuses, reload bonuses, and several promotions.
Combined with new elements including live betting and a mobile-friendly website, in addition to a casino and the Elite North American racebook.
BEST SPORTSBOOK FOR PC & MOBILE
We Adapt to Your Devices Whether it's a smartphone, tablet, laptop, or desktop, BUSR offers the most options and wagers to provide you with the greatest sportsbook experience possible! 
Because you deserve to "Bet with the Best," BUSR continually improves.
Deposit and withdrawal methods
We accept Visa and Mastercard. Credit Cards, Debit Cards, Pre-Paid Cards & Rechargeable Cards.
Cryptos: Bitcoin, Bitcoin Cash, Litecoin, Ethereum, Solana, Dogecoin, Binance, Tether, Cardano, Shiba Inu
Person to Person (MoneyGram)
We can process withdrawals with an average of 24h via Bitcoin, also we are pleased to offer you multiple other payout options. Our winning award English speaking customer service agents will be more than happy to assist you.
What is the minimum/maximum deposit amount at BUSR?
The minimum deposit via Bitcoin (BTC) is $20. We have no maximum limit.
How long does it take to process my withdrawal request?
If you use Bitcoin to request a payout it will take up to one business day after your account has been reviewed.
contact support
Do you still have questions or comments? No problem. We are here to help. Choose one of the options below.
Convert big plays into profitable days
Make your first deposit and instantly get your NFL Welcome Bonus up to $2,500.

BUSR offers a wide variety of NFL wagers such as NFL preseason lines, Super Bowl LVIII odds to win, NFL exotic props and much more!

You are one click away to feel the NFL adrenaline while cashing big!
FEATURED ON
Trust the experts. BUSR is the first place people go for the latest odds in horse racing, sports and entertainment.